Posts: 189
Joined: Sun Apr 10, 2016 12:23 pm
Location: UK
Contact:
Just stumbled upon this on indiegogo:
https://www.indiegogo.com/projects/acor ... 13392156#/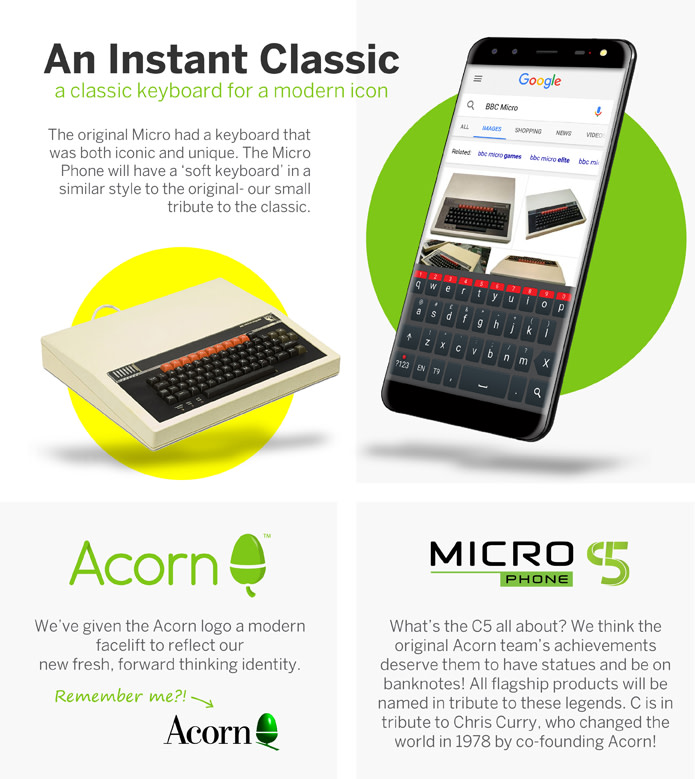 ---
I can't say that the Acorn name is about to get me to take a punt on an indigogo campaign for a rebranded $140 smartphone...
https://www.engadget.com/2018/02/23/aco ... ll-phones/
I'm guessing it didn't get any VCs to take a punt either... Although I could, of course, be completely wrong...
d.
---
And they've made the Acorn logo even worse! At least they could have brought back the one from the 1970s.
The placeholder page for the
customer self-help support site
currently looks a bit - well - I don't know how to describe it. British clichés dialled up to 11? I'm surprised there isn't a red telephone box and a double-decker bus in the picture.
Back on topic again. It's great that you can get such a powerful phone for that price, though I'd want to shop around to see what else you can get for the same price. And it would be good to know if the operating system is going to get updates. Then there are all sorts of questions that many people don't care/think about that take us down the rabbit hole: like the ethics around how the phone was made, the privacy implications of using the in-built applications and services, and whether the user can replace/upgrade the system software on the phone themselves. But that's a discussion for another time, perhaps.
Edit:
I see Jon's let the RISC OS forums know about it. Just don't let them know about the
Micro Book
or that'll really set them off.
---
It does look like an egg having a poo... Anyway!
If you like the phone you could, of course, just buy it off aliexpress.
They've bought microuser.co.uk too!
Oh deary me.
d.
---
This is madness.

Just so long as they go bankrupt quickly and quietly without first kicking up a fuss about roms in emulators or what-have-you...
---
I don't think they own the rights to any of that stuff - just the name.
d.
---
Posts: 73
Joined: Sat Nov 25, 2006 6:49 pm
Location: Cardiff
Contact:
Cynical attempt to cash in on Acorn / BBC nostalgia.
Get money off suckers, develop a custom Android keyboard / skin (or rather get someone in China or India to do it), buy a load of phones from alibaba.
Let us hope it's as big a success as the Sinclair C5.
---
Posts: 36
Joined: Sun Jul 07, 2013 9:46 pm
Contact:
An attempt to cash in on the 'brand' association?

It's a shame that the Acorn name wasn't available to companies more closely associated with RISC OS, like Castle, CJE Micros etc.. and which continue to support the hobbyist workstation market.

Also I thought the C5 was a (French) car model?

I also note that as yet I haven't found a business address on the website, Given previous advice from the UK govt about getting "real-world" locations for online sellers, I am suprised it's not on the site.
Last edited by
alex_farlie
on Fri Mar 09, 2018 10:26 pm, edited 1 time in total.
---
---
Well that's the end of that.

It achieved just under 1% funding of its goal (of which they'll receive none as they didn't meet the goal), from 42 backers. To the reach its goal it would have required ~3000 backers. Of the 42 backers, 40 wanted to pay the early-bird discounted price and only two people were willing to pay the regular price.

Incidentally if anyone really wants the phone (without acorn branding), it's on ali express for about 90 ukp, I could provide a link.
---
You could even 3D print your own case.
---