10 PRINT "ZX81 at 37 ";
20 GOTO 10
Happy birthday to my first ever computer ... the Sinclair ZX81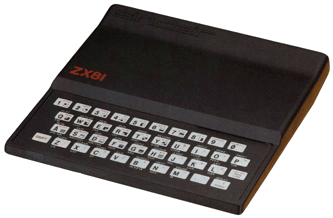 Last edited by
topcat96
on Tue Mar 06, 2018 7:11 pm, edited 1 time in total.
---
Posts: 414
Joined: Wed Nov 28, 2012 10:01 am
Location: UK
Contact:
The design still looks great now. Awesome little machine.
---
That's definitely worth a game of 3D Monster Maze on the Beeb...
---
I have a very soft spot for my little doorstop...

d.
---
Posts: 3484
Joined: Thu Dec 29, 2011 5:13 am
Location: Tauranga, New Zealand
Contact:
topcat96 wrote:my first ever computer
Mine, too.
I remember Dad ordering it, and waiting, and waiting, and then (IIRC, it was a long time ago!) it being delayed, and having to wait some more.
Pressing hard on the little membrane keys to make something appear on the slightly swirly TV screen.
And the wobbly 16K RAM pack ... can't remember it we got that with it or soon after. Both the ZX81 and RAM in a shoe box around here ... somewhere ... don't think worth enough for me to retire on ...
And then from that to a BBC B ...
---
richardtoohey wrote:..And then from that to a BBC B ...
LOL
---
Posts: 1020
Joined: Wed Jan 27, 2016 12:50 am
Contact:
I remember trying a ZX81 when I was younger and being very underwhelmed. It may have come from a boot sale but I can't remember the circ's. It was certainly many years after its heyday. It was hard to the touch, it did nothing (as I thought) and I wondered what a pity it wasn't at least a Spectrum.

Even though I've always liked old stuff and appreciated getting something from something, this was also before it became important historically.
---
Posts: 1020
Joined: Wed Jan 27, 2016 12:50 am
Contact:
topcat96 wrote:Happy birthday to my first ever computer ... the Sinclair ZX81
What projects did you do on it? I gather the ZX was quite BBC-ish in regards making some contraption, plugging that in the back and writing a program to make it interact.
Did anyone else do anything 'real' on it?
---
I had an 8 bit parallel I/O board plugged into the back of my self built ZX81 that I tried to generate polyphonic tones on, using one data line and a speaker. The code was hand assembled and had a nested loop to trigger a 1->0->1 state change back and forth on the line the speaker was wired to. This followed a successful test of a single tone generation, but crashed and I lost it all so I gave up.
Not a serious application, though. Mickey Mouse at best. If only I'd known more, I might have done something more interesting with it. As it was, the ZX81 was used for that and one other program written in BASIC that demonstrated to me how limited it was with 1k of RAM. That demonstration occurred the night I built the thing, so I didn't really get much out of it and ended up selling it as soon as I could.
That said, I have one (with a 16k RAM pack) in my collection, for
auld lang syne
.
---
---